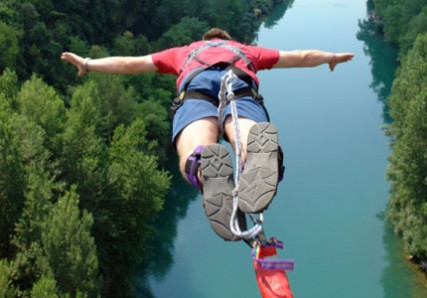 Covid update: We are fully OPEN.

What: We run bungee & rope jump adventures in Northern California
When: We jump every Saturday afternoon (year round). For more details see our Schedule.
Where: Near Sacramento. In the Sierra Nevada Mountains of northern California close to: San Francisco, Napa, Lake Tahoe and Yosemite National Park. See Map.
Objects: We jump off bridges, trees, dams & rocks in remote and beautiful mountainous areas.
Bridge: 100 ft from $149
Tree: 200 ft from $249
Dam: 300 ft from $249
Rock: 400 ft from $499
Bridge, Tree, Dam or Rock: Compare
More Information: see our FAQ page.
Or Contact us (call, text or email).
Ready to jump? go to our Sign-up page.
Related Images: